---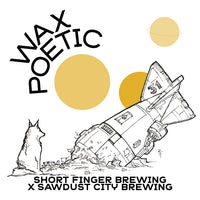 Solera - A Forever Project (5.1%)
This beer was created to be a yearly solera for Funkfest at Sawdust City. This year's blend from the barrels is a mix of SFBC's house culture and Sawdust City's Limberlost culture. It brings a soft acidity that plays with Lemon Meringue pie notes and hints of lemon zest and pith on the back end. Only releases once a year.
Bottled January 2021
37.5cl
We call our solera a forever project.  A solera is a term that describes the art of barrel aging liquid over an indefinite length of time. During this time you regularly take liquid out of the barrel but then immediately top that barrel back up with fresh wort (in our case) so that it does not empty and the new liquid gets inoculated by the old carrying on the flavour and culture.