---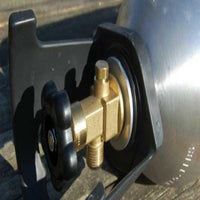 Please note that CO2 cylinders are full and are not available for shipping this is a local pickup item only.
Our brand new CO2 tank is the perfect size for a home draft fridge. This tank is full of CO2 to save you a trip later. 
Switch out your empty 5lbs CO2 tank for one of our full tanks. Tanks must be aluminum and within date code to be eligible for swap.
*YOU MUST HAVE A SFBC CO2 TANK FOR AN EXCHANGE*